Upcoming Fundraising Events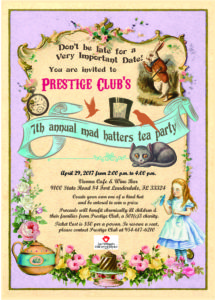 Prestige Club's 7th Annual Mad Hatter Tea Party 
Saturday, April 29, 2017 – 2:00-4:00PM
Vienna Cafe & Wine Bar
9100 State Road 84
Fort Lauderdale, FL 33324
Ticket Cost is $50 per person
To reserve a seat, please contact Prestige Club at 954-617-6210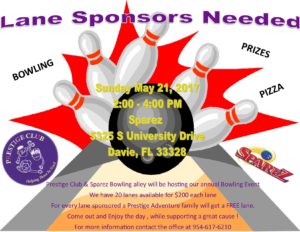 Prestige Club & Sparez Annual Bowling Event 
Sunday, May 21, 2017 – 2:00-4:00PM
Sparez Bowling Alley
5325 S University Drive
Davie, FL 33328
We have 20 lanes available for $200 each lane.
For every lane sponsored a Prestige Adventure Family will get a FREE lane.
Come out and Enjoy the day, while supporting a great cause!
For more information contact the office at 954-617-6210
There are no upcoming events to display at this time.